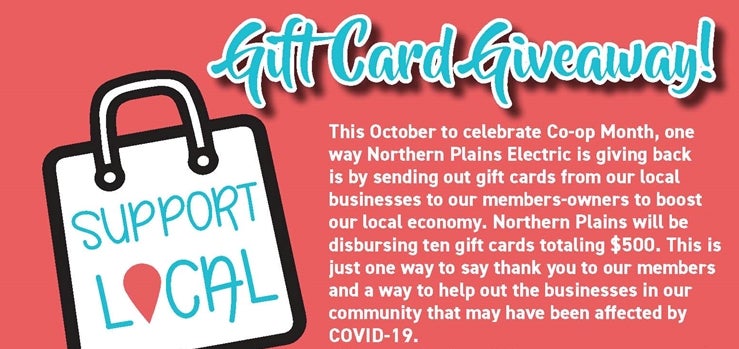 In October, Northern Plains Electric Cooperative took part in celebrating National Cooperative month by hosting a gift card giveaway contest.  Normally Northern Plains invites members to stop by the office to visit and enjoy a tasty snack, however due to the ongoing pandemic it was thought best to skip the socializing and better to help out our local economy.
Ten gift cards totaling $500 were sent out to members whom submitted their entry by mail.  Three hundred and seven entries were submitted, and winners were drawn at random.  Decided by the winning member's location, a gift card of $50 was mailed to them from a local business in their area.
"This was just one way to say thank you to our members and a way to help out the businesses in our communities that may have been affected by COVID-19," Seth Syverson general manager.
In addition to the gift card giveaway contest, Northern Plains once again offered free popcorn bags to the nineteen schools in their service area.  Five schools accepted the gift of popcorn bags to be used at their sporting events.
Thanks to all who participated in our activities. Northern Plains Electric is proud to be a cooperative and proud to serve our members and communities.

Gift Card Winners
Norma Heidt,  Arena

Sheila Schmidt, Bisbee

Jenna Stoppleworth, Courtenay

Jacqueline Smeltzer, Cando

M & M Oksendahl, Rugby

Michael J Lesmeister, Jr., Harvey

Holly Rubbert, Cando

Randy Kramer, Buchanan

W. T. Godman, Jr., Rugby

Marita Aldayel,  New Rockford